Motorcycle Training - North London is dedicated to providing Motorbike lessons including CBT in North London, Direct Access (DAS) & A2 Restricted Access Licence Training Courses.
Welcome to our specialist motorcycle training site. We cater for all motorbike training courses in North London CBT (Compulsory Basic Training), Direct Access training (DAS) & A2 Restricted Access Licence courses.
We are one of the few motorcycle training schools in London pleased to be able to offer cheap motorbike training in North London, which includes CBT in North London for only £99 including bike hire, helmet & gloves.
As well as offering CBT lessons, we also offer full motorcycle training for people who would like motorcycle lessons to get their full motorbike licence, including the A2 Restricted Access LIcence & (DAS) Direct Access Training in North London.
Motorcycle Training North London
Our North London motorbike training centre is based in Tottenham (very close to Edmonton, Southgate & Enfield), making it an ideal location for people who would like to take motorcycle lessons in North London.
Our motorbike lessons include CBT Training North London, Direct Access Scheme and A2 restricted Access training courses. Unlike many other motorbike training schools, our motorcycle training courses in North London are run 7 days a week, giving you the flexibility to choose to take your motorbike lessons at a time and day that suits you best!
Because we probably provide the cheapest CBT in North London, we get people travel from all area's of London including KIngs Cross, Finchley & Highgate to take advantage of our CBT Training courses & other motorcycle training courses in North London, as we have a superbly located training site in Tottenham which is just around the corner from White Hart Lane and has fantastic transport links and facilities.
Furthermore, our unique online booking system allows you to view our current availability, and instantly book onto any of our London motorbike training courses in North London or East London (CBT, Direct Access or A2 Restricted Licence) at a time that's convenient for you.
CBT Training North London
Our Tottenham CBT Training courses in North London are run 7 days a week, and offers probably the cheapest CBT in London. Our CBT courses are only £99 including bike hire, helmet & gloves! Our CBT assessment (or "CBT test" as it's commonly reffered to) has an extremely high pass rate, with well over 95% of people manging to pass our North London CBT test first time!
Our superb location makes us easily accessible from all areas of North London, including, Highbury, Islington, Camden, Harringay, Muswell Hill and many other North London areas. For more information about the location of our North London motorbike training site, please click here
Motorcycle Training in East London & Essex
We also have a motorcyle training centre in East London, and are proud to announce that we have recently opened up a third training centre in the heart of Essex in partnership with Lakeside Harley Davidson. Our motorbike training centre in Essex is based at the Harley Davidson showroom next to Lakesdie shopping centre in Thurrock, mening that we can now offer our extensive motorycle training service to people living in Essex.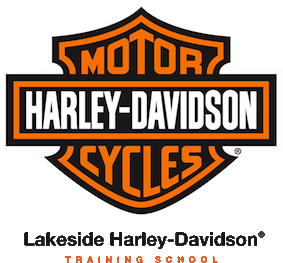 We are extremely proud of our crudentials, being the only selected motorcycle training school in the country chosen to train for the London Olympics, we have broken the mould once again, and have been approached by Harley Davidson to be exclusive motorycle trainers for argueably the the biggest motorcycle brand in the world! Being approached by such large organisations, coupled with continous glowing reviews is a fantastic testimant to the level of training you can look forward to receiving.
Full Licence Motorbike Training in North London
Whilst many people are happy with passing just their CBT test, we like to encourage people to progress their motorcycle training further and show them how to get a full motorbike licence, by passing either their Direct Access training course (DAS) or their A2 restricted access course. We have comprised a fantastic easy to follow flowchart, which clearly explains the process of how to get a full motorcycle licence.
It is now more important than ever to get your full motorbike licence once you have passed your CBT test, as the DSA practical motorcycle test will be changing from January 2013. So whether you passed your CBT in Enfield, CBT Edmonton, CBT Islington, or CBT Highbury, it doesn't matter... the time to pass your full motorbike licence is now!
Our structured syllabus has lead to to an exceptional pass rate which is envied by not only other London motorcycle training schools, but motorbike training schools across the country, as all of our results are published on our Facebook page, with video testimonials from our You Tube channel to back up our statistics.